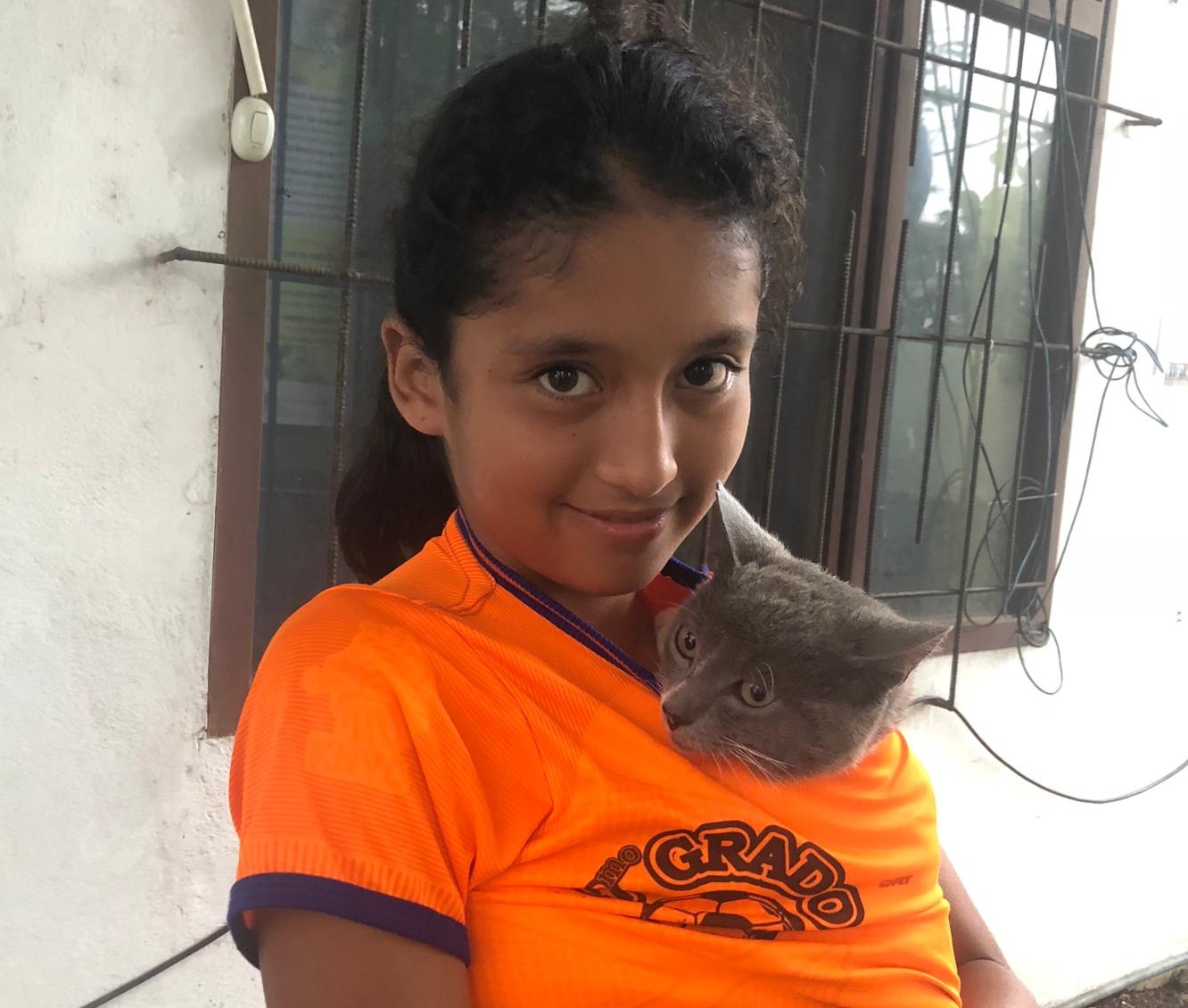 Figure 1. Selena with Plumito. Photo: Darwin Animal Doctors
A young Galapagueña walked through the clinic gates with the head of a cat just visible out the top of her shirt. Selena was bringing Plumito back to the clinic for the fourteenth time in two weeks. Plumito had been diagnosed with liver disease, and during the first days of his hospitalization, Selena visited him every day for an hour, watching his treatment program intently. Convinced that she could now take care of him herself, Selena took Plumito home, promising to bring him back to the clinic every day for a check-up. She kept her promise, and Plumito regained his full health and was scheduled for a neuter surgery the following week. 
While it might not be immediately clear, Selena was doing her part to conserve the unique ecosystem of the Galapagos Islands. Dogs and cats do not occur naturally in Galapagos, and some of the diseases they carry can infect native wildlife. Additionally, the hunting instinct of cats and dogs is something previously never experienced by Galapagos wildlife, making local fauna easy prey for free-roaming pets. It is essential, therefore, to humanely control the population of dogs and cats through sterilization. By conducting sterilization surgeries, managing pet health and teaching about proper pet care, veterinarians support conservation in Galapagos.  
In this article, we describe the efforts of Darwin Animal Doctors to promote youth engagement in animal care and to educate the local community about the role of veterinary work in conservation. We describe the overall goals of Darwin Animal Doctors and detail three new programs that increase youth involvement in our veterinary clinic. We conclude with recommendations for the continuation of these efforts and for the involvement of youth in conservation programs throughout Galapagos.
DARWIN ANIMAL DOCTORS
Darwin Animal Doctors has been operating in Galapagos since 2009, with a full-service veterinary clinic and veterinary training facility in Puerto Ayora on Santa Cruz Island. We also run community outreach and education programs to teach the public about responsible pet ownership. These programs take place mostly on Santa Cruz, but we have also organized activities on Isabela and San Cristóbal.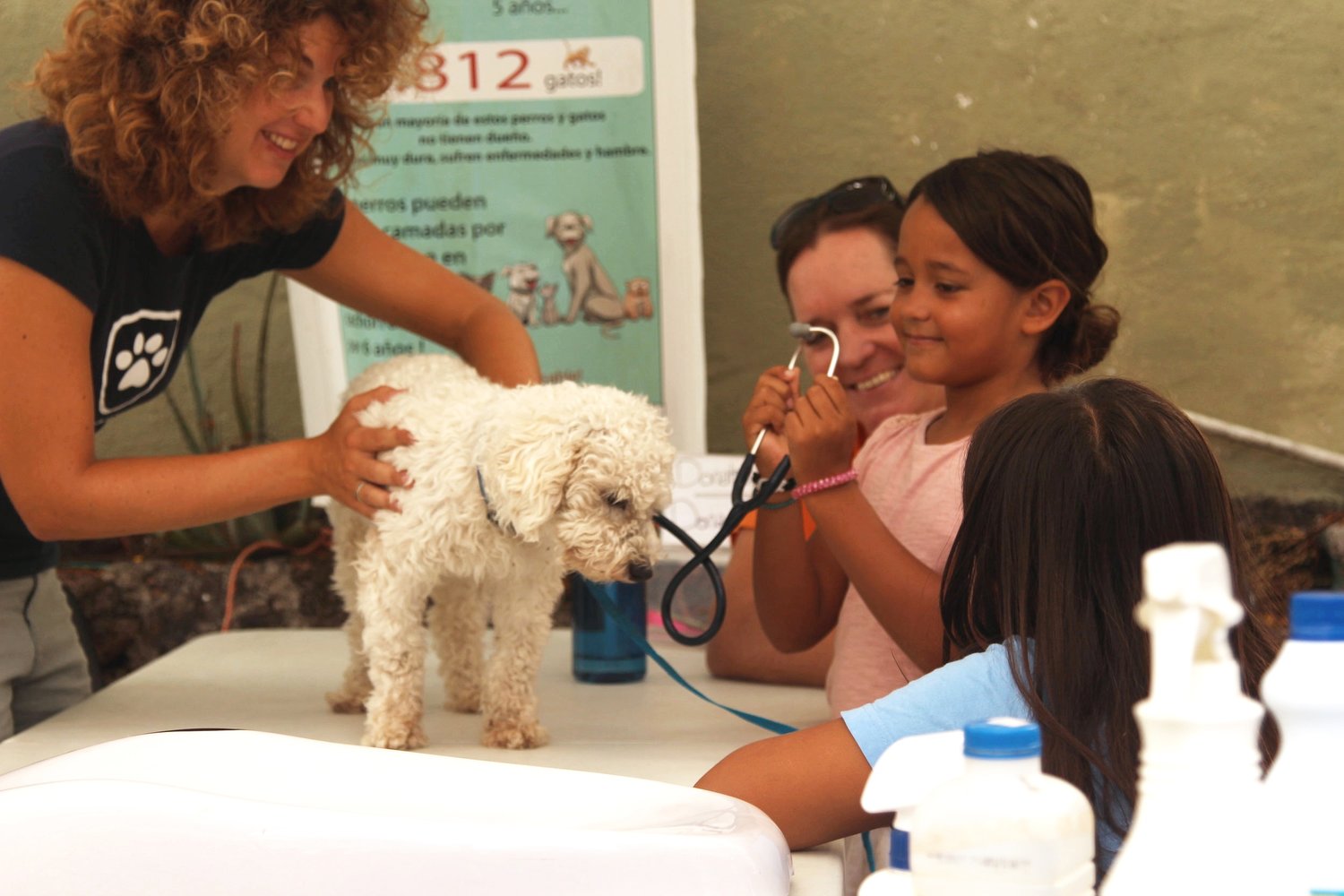 Figure 2. Dr. Carmen Barba Claassens shows young Galapagueñas how to listen to their dog's heartbeat. Photo: Darwin Animal Doctors
In Galapagos, responsible pet ownership is about more than just understanding what food your pet needs to grow up healthy. It is about understanding the impact your dog or cat could have on native wildlife and how to minimize this impact. 
Over the years, Darwin Animal Doctors has implemented diverse education initiatives about the interactions between the pet population and native fauna. We invite schools and youth groups to visit our Puerto Ayora clinic and play games about their and the veterinarian's role in conservation. We also disseminate information through pamphlets and one-on-one discussions with clinic clientele. 
We have witnessed the impact of these programs in the growing number of sterilization surgeries we conduct every year. The percentage of canine and feline patients we see who are already sterilized is also rapidly increasing. Additionally, we have observed a growing number of inspiring young people take charge of the health of their pets, just like Selena. 
In 2018, Darwin Animal Doctors began to focus our efforts on handing the role of the educator back to interested and proactive community members. We piloted three major new education programs: a scholarship program, a local youth volunteer program, and education and sterilization campaigns targeting small communities. 
SCHOLARSHIP PROGRAM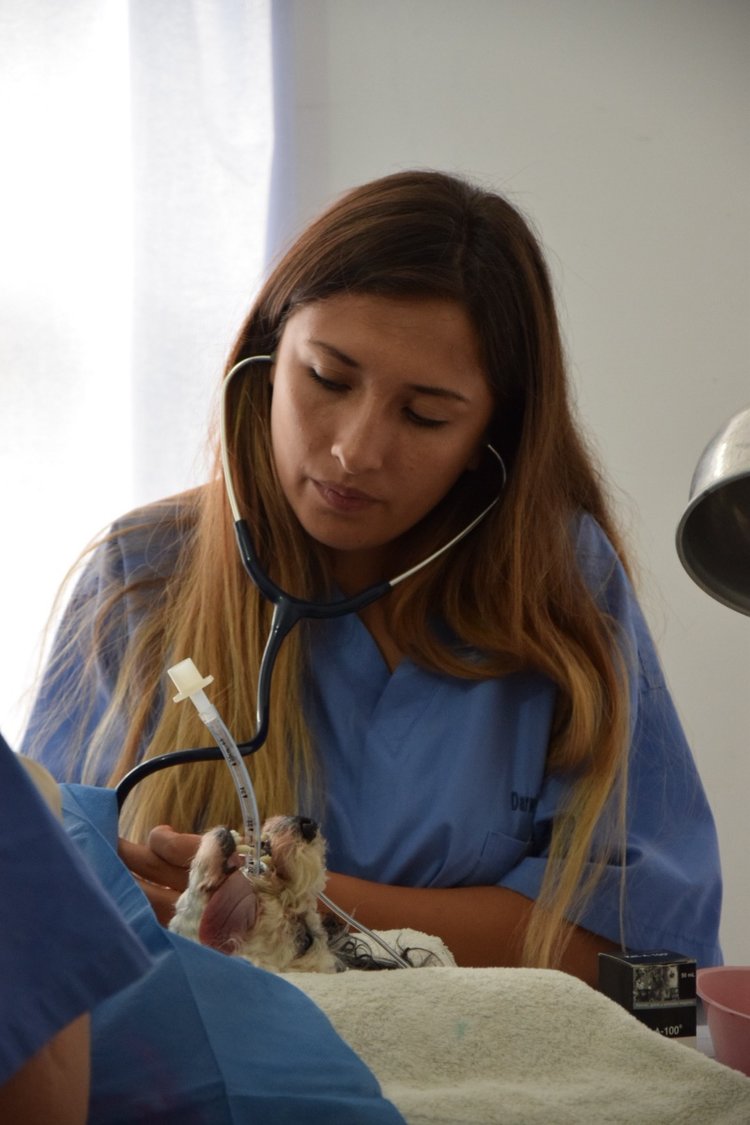 Our scholarship program provides Ecuadorian veterinary students and newly graduated veterinarians with a one- to six-month internship in our Puerto Ayora clinic. We invite participants from both Galapagos and the mainland. By increasing the number of Ecuadorian and Galapagueño students and veterinarians in the clinic, we seek to empower the local community to ultimately run the facility. 
Scholarship recipients gain hands-on experience in veterinary medicine. For example, qualified veterinarians at Darwin Animal Doctors guide students through surgical sterilization procedures, allowing them to practice essential skills that they will soon need on a daily basis. Students are also trained in the diagnostic process, learning what information is important to diagnose the cause of a pet's health problem, what tests can be done to support a diagnosis, what treatments are required for different diagnoses, and how to explain the outcome and treatment procedure effectively to pet owners. 
We have had great feedback from students so far. "It was a very good experience, it helped me to improve my skills […] I learned a lot about internal medicine, surgery, [and] anesthesia," reported Nathalya, a veterinary student from Quito. "This experience has taught me a lot of new things that university doesn't. This program is not only to go and practice veterinary medicine every day, it is also…to learn how to treat people, how to talk to them and how to manage to have good communication so that a good treatment protocol for the patient can be followed," wrote Camilo regarding his time with Darwin Animal Doctors.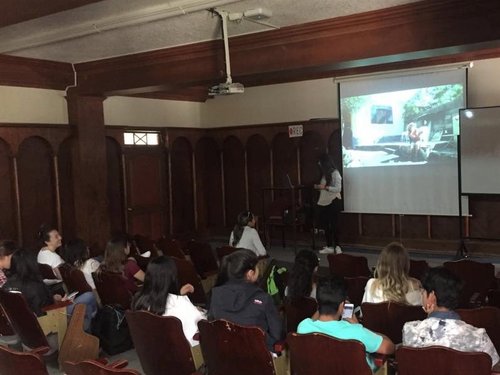 We aim both to increase the knowledge acquired by our scholarship recipients, and to grow their sense of pride for the work that they do to help protect their national treasure. We encourage each scholar to make a presentation to their home community about conservation in Galapagos. For example, Gabriela, a student from Universidad San Francisco de Quito, made a presentation to her class in Quito about how veterinarians can protect fragile ecosystems through managing disease in pet populations and through pet population control via sterilization. She also encouraged her fellow students to take advantage of the Darwin Animal Doctors scholarship opportunity. 
Darwin Animal Doctors provided three scholarships in 2018, with another three scholarship students planned in the first half of 2019. 
YOUTH VOLUNTEER PROGRAM
We invite local children ages eight to 16 to join our clinic team in Puerto Ayora, where they experience first-hand some of the conservation-focused veterinary initiatives happening in their community. These young Galapagueños show an enthusiasm for conservation and wish to learn more about animal husbandry and healthcare.
During their time in the clinic, our youth volunteers are trained in basic animal handling skills such as how to read the body language of unfamiliar dogs and cats, how to approach and handle dogs safely, and how to hold dogs and cats when they are receiving treatment such as an injection. They also learn how to perform basic clinical tasks like measuring and administering anti-parasitic medications. Through observation they learn about sterilization and more complex medical procedures. We take care to explain the role of each medical treatment in the context of conservation in Galapagos.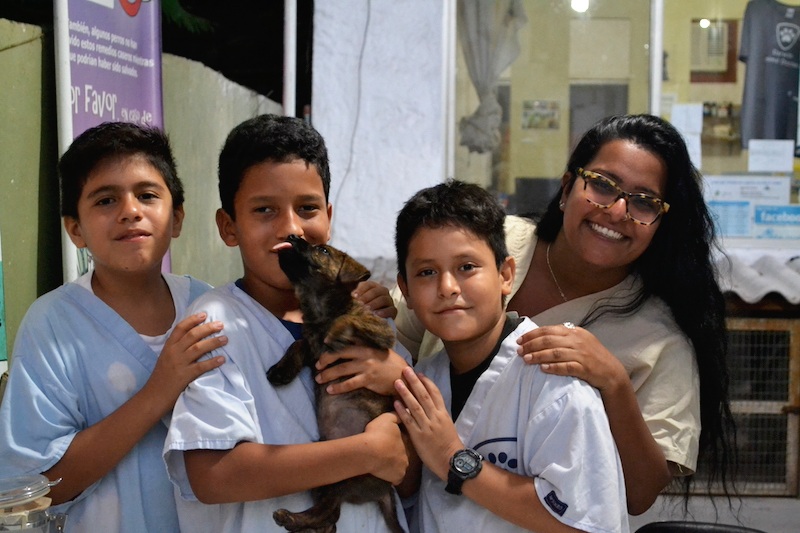 Figure 5. Volunteer Nisha with three local youth volunteers. Photo: Darwin Animal Doctors
We encourage these young volunteers to become youth ambassadors who share the knowledge gained during their clinic experience with classmates and community members, and who lead by example in the way they look after their own pets. So far, 10 local children have participated in this program.
EDUCATION AND STERILIZATION CAMPAIGNS
To provide access to veterinary care in more remote regions of Santa Cruz Island, in August 2017 Darwin Animal Doctors implemented a pilot education and sterilization campaign in Parque Artesanal, located in the highlands between Puerto Ayora and Bellavista. This campaign allowed us to mobilize our education program, bringing it directly to the community from our base in Puerto Ayora. 
A small team composed of Darwin Animal Doctors staff, educators from the local youth group KeMaHe, and prominent community members went door-to-door over two days to talk to Parque Artesanal residents about health and sterilization of pets, and about the role of responsible pet ownership in conservation of native wildlife. We reached 86 of 89 families in the community, providing each local resident with an information pamphlet about conservation and pet care. Our team was inspired by the amazing logistical support received from the Parque Artesanal community, including its president and vice-president, and from the dedicated team at the Galapagos Biosecurity Agency.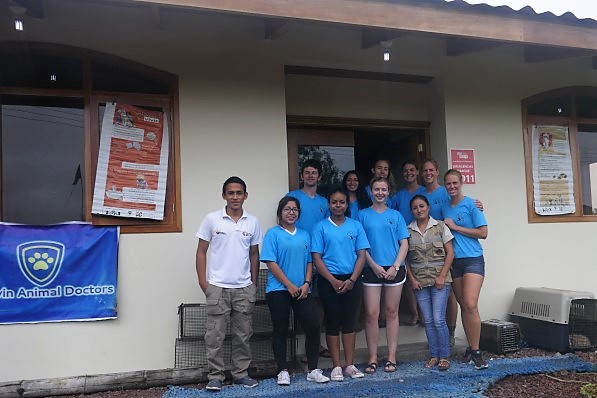 After going door-to-door, we set up a one-day temporary clinic to provide free and easily accessible veterinary service. Staff at the clinic sterilized nine of 14 previously non-sterilized cats and dogs in the area and took another dog back to our permanent facility in Puerto Ayora for much-needed surgery on a broken leg. 
Following the success of this pilot project in Parque Artesanal, the Galapagos Biosecurity Agency and Darwin Animal Doctors have partnered to organize additional spay and neuter clinics across the Islands. Each month, the Galapagos Biosecurity Agency/Darwin Animal Doctors team has gone to either Isabela, San Cristóbal, or the highlands in Santa Cruz to set up a three-day clinic that provides sterilization and other veterinary services. Through this program, we have sterilized an additional 485 animals that otherwise would not have had access to these services. 
LOOKING TOWARD THE FUTURE
Our education programs have given young Ecuadorians new opportunities to get involved in Galapagos conservation. In 2019 and beyond, we hope to develop tools to more formally measure our success, and to expand our programs to include additional community members. 
For our scholarship program, we believe it is important to assess the impact of the training not just from the point of view of the student, but also from the perspective of their university. We plan to collaborate with scholarship recipients' universities to develop and implement formal evaluation processes, which will measure the professional development of students and young veterinarians who receive training in our Puerto Ayora clinic. We also hope to provide additional support to students for the presentations they make to their community after their scholarship placements. We want to develop a set of training materials for education and outreach, which will teach scholars how to effectively deliver conservation messages to different audiences, helping them to become lifelong educators.  
We have learned that the some of the greatest teachers are members of the local population in Galapagos. Therefore, we hope to enhance the ability of our youth volunteers to share information with their community and educate their peers. For example, members of our local veterinary team may soon accompany youth volunteers into their school classrooms, where they will teach their fellow students and teachers about their experiences with Darwin Animal Doctors. 
Finally, we hope to run more door-to-door education campaigns in conjunction with our mobile veterinary clinics.
Creating the next generation of conservationists requires more than just classroom lessons. It requires opportunities for youth to join active conservation programs. We have had the wonderful opportunity to work with very enthusiastic young people, and we have seen their enthusiasm grow through their involvement with Darwin Animal Doctors. We encourage all environmental organizations in Galapagos to involve local students in their efforts, to instill a passion for conservation in the next generation. We further encourage schools to develop practical work placements and internships that allow students to engage in locally-run conservation programs and to learn from hands-on experience the importance of protecting the Galapagos ecosystem.
Darwin Animal Doctors would not be able to run such programs without the unfaltering support of our donors. Celebrity Cruises and Galapagos Conservancy have been pivotal in funding our initiatives for many years, and it is thanks to their continuing support that we have been able to grow in our education efforts. Additionally, we would like to thank the Galapagos Biosecurity Agency for its continued collaboration, allowing us to grow and expand our veterinary programs. The support of the Galapagos Biosecurity Agency has not only allowed our clinic to continue to serve the Santa Cruz community, but has now enabled us to reach communities on Isabela and San Cristóbal Islands as well.